It truly is a great honor for Karuna Bali Foundation to be given a trust to facilitate 18 of young adults' students who are the recipients of scholarship from Education Rock to attend a two-day Leadership From Within – Journey to Sustainable Change workshop that was held by Campuhan Life Long Learning department on the first week of March. 
This cooperation between Education Rock and Karuna Bali Foundation has been going on for years in providing workshop to help young adult to rediscover their essence. And this year, there will be 4 workshops to be given to approximately 140 participants from Education Rock alone.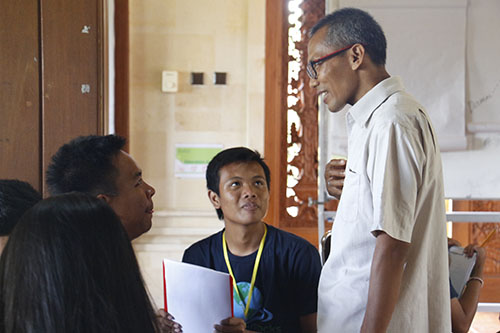 In this workshop, the participants got engaged in reminiscing and recognizing the values within themselves, recognizing their most fundamental aspects for making positive sustainable change. Taking a total responsibility of their lives, exercising their most fundamental ability of making personal conscious choices which based on their innate values that provides positive energy that influences positive changes in their lives.
The first day journey in recognizing their values and acknowledging their strengths, and also embracing some aspects of the self that haven't been developed and making friends with the facts and reality of the self. The workshop was facilitated by Wayan and Philip. There were moments when the participants got caught up emotionally but recovered very fast in deep realization that their lives have prepared them to be a unique leader and in remembering their core values inside them help to reclaim their power of making choices.
As the realization about themselves are getting deeper, the students learned about their qualities and having more understanding about their lives so far. The emotional journey continues on the second day, in search of deeper meaning of life. The activities guide them in rediscovering leader qualities within them and loving themselves even more. The workshop final moment was when they have to look into the past exploring their early influences of their leadership and continued with another activity of writing a letter for themselves. The happy faces showed that it was a wonderful moment they have shared and will be a long lasting memory for the rest of their lives.